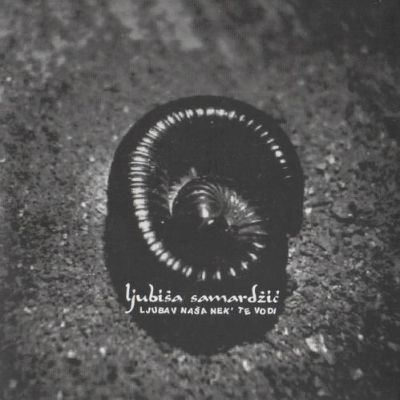 (2008) Ljubav Naša Nek Te Vodi
01.
Spomenici u noći
02.
Bezbroj mostova nas spaja
03.
84
04.
War is business, again, again, again
05.
Moj frend je gay
06.
Razlog za
07.
Furamo to, pa pank...
08.
Isus na tvome križu je od zlata
09.
Željko Pervan F.O.A.D.
10.
...
11.
Zar pank ne bi trebao biti kontra
12.
Ovo je ludilo
99.
- prateći tekst -
01.
Spomenici u noći
Odjeci mine u crnoj noći,
detonacija bez vriska,
poruka je strah.
lako je udarati u kamen on ne može vratiti!
"oni ruše uspomene koje sagradile su ovaj grad"
Monuments in the night
mine echoes in the black night
detonation without a scream
the message is fear
it's easy to beat a rock
he can't turn back!
"they destroy the memories that havebuilt this city"
02.
Bezbroj mostova nas spaja
Atentati i bombe za tvoje 8 satno
radno vrijeme a danas je prvi maj,
piknik i kokteli... bezbroj...
idemo kao nekada rudari štrajk
dijalog s poslodavcem
ali samo kada shvatiš
borba traje i nakon barikada...
bez novih riječi - bez novih dijela
Countless bridges connect us
attacks and bombs for your eight working hours
and today is the 1st of may picnic and cocktails
countless....
we do as miners used to
strike dialogue with the employer
but only when you realize
the battle continues after the barricades
without new words - without new deeds
countless...
03.
84
Šest godina je prošlo od kad živimo 84
najbolji live performans uveo nas je u
priču koju proživljavamo danas...
kotrljamo se tamo gdje nas bace
novac je smljeo nacionalizam
sve je na prodaju i ništa nema vrijednost
neprijatelju nestaje lice...
mir je time out između dva rata
savršeni film vrijeme između reklama
reklama i još malo reklama
pune novih pojmova fotoshop kozmetika...
frende daj se nasmiješi sve se ovo sada snima...
It's been six years
since we've lived in the 84
the best live performance
draw us in the story
we live in today...
we roll where we're thrown
money grinded nationalism
everything is for sale and has no value
the enemy's face is disappearing
peace is a time out between two wars
a perfect movie between commercials
commercials and some more
commercials
full of new terms
Photoshop cosmetics
friend, put a smile on
all of this is being recorded right now...
04.
War is business, again, again, again
Da li si shvatio što je crass mislio
kada je zaključio da nisu uspjeli?
fuck the system je brend
vječita želja za pripadanjem
stvorila je identitet borbe - logo
logo na kraju priče
zar pank ne bi trebao biti kontra
logo na kraju priče otpor je postao roba!!!
zato mi nemoj reći da je samo rat u kurcu!
logo na kraju priče,
ostaje samo logo na kraju i ove priče!!!
Have you understood what crass meant
when they realized they didn't succeed?
fuck the system is a brand.
eternal wish to' belong created the
identity of the battle - logo
logo in the end of the story, shouldn't
punk be against it?
logo in the end of the story, resistance
became merchandise
so don't tell me only war sucks
logo in the end of the story, what's left
is logo in the end of this story too
05.
Moj frend je gay
Kažeš da je to zavjera židova i moćnih lobija
ali ja vidim strah judi koji su postali lovina
ako i dobiju podršku to je u doba izbora
oni skrivaju osjećaje jubavi radi osude
ne živiš svoj život i stalno sudiš drugima
nebi spaljivao vještice u kaosu 21. stoljeća
ali taj prokleti ali neke se stvari kao moraju znati!
ti si homofob u lakiranim cipelama!!!
... nema tu izbora / dok su oni lovina ...
My friend is gay
you say it's a jewish, powerful lobby conspiracy
but i see haunted people afraid
even if they receive support, it's during the elections
they hide feelings of love because of conviction
you don't live your life and constantly judge others
you wouldn't burn witches in the 21st century chaos
but this damn but, some things should be known
you're a homophobe in fancy shoes
...there's no choice while they're the catch
06.
Razlog za
Jučer sam gledao Razlog Za video
Kutina je tada stvarno imala spirit
danas sestro samo puki festivali...
Šibenik je najbolji, Paradizo je najveći???
...prokleti smo, prokleti...
ne brini tvoj je najveći!?
...prokleti smo, prokleti...
Yesterday i saw a razlog za video
kutina really had a spirit then
today, my sister, only mere festivals
Šibenik is the best, paradiso the biggest???
we're damned, damned...
don't worry, yours is the biggest one
we're damned, damned...
07.
Furamo to, pa pank...
Pismo sam primio danas
osjećao sam se kao kod prvog
sreća, tko zna ko je?
i želja da ga što prije otvoriš!
danas klinci otvaraju profile
postavljajući sebe kao brend...
sjećaš li se kada smo preljepljivali marke?
spam je bio flajer za piceriju
reciklirali smo ga kao podlogu za pismo...
današnji je spam tako
dosadan, monoton, glup baš kao i sama scena...
We're into punk
I received a letter today
it felt the same as when i received the
first one luck, who knows who is it?
and a wish to open it as soon as possible
today kids create profiles
setting themselves as a brand
do you remember when we re-sticked stamps?
used stamps over and over
flyers for pizza places were spams
we recycled them for letter pads
today spam is so boring, monotonous, stupid...
just as the scene itself
08.
Isus na tvome križu je od zlata
Najtiša riječ donosi oluju /bradati pedofilu/
crkve ćemo pretvoriti u škole
isus na križu je od zlata
i zato je tvoj bog sada mrtav.
Samo jaki Ijudi ne trebaju vođu!
3x nakon ovog krečenja
freske se neće vratiti na zid
umrijet ćeš i sa puškom u rukama!
The jesus on your cross is golden
The most silent word brings the storm
you bearded pedophile we'll turn
churches into schools the jesus on
your cross is golden and your god
is dead now only strong people
don't need a leader after this
whitening the frescoes won't
return to the wall you'll die
with a rifle in your hands!
09.
Željko Pervan F.O.A.D.
Kažeš mi da je to show,
i da se događa i u Americi???
boli me kurac
šta bi to trebalo značiti ...
stand up iluzija!
Pervanova satira - satire
Pervanova iluzija - izjeda...
Pervanova komedija gura nas između zidova!
Kao mi smo najpametnija nacija,
oko nas sve je zaraza....
LAŽ/LAŽ/LAŽ
You tell me it's a show and it happens
in america too?? i don't give a fuck
what it's supposed to mean stand up illusion!
pervan's satire - smashes pervan's illusion -
devours pervan's comedy pushes us
between the walls! we're the smartest nation
everything around us is contamination ...
lie lie lie
10.
...
Još jedan pank bend još jedna religija
Da li je moguće biti apolitičan!?
Kada mrziš drugačije kada mrziš i mrziš
a oluja te definira otuđen i prevaren
Odavno sam shvatio da tvoj t-shirt
s anarhijom ne znači ništa ima tu
/nacionalnih/ tenzija Solidarnost
bez dijela Antifašizam zbog trenda
A u tramvaju odmaknut ćeš se od cigana
Another punk trend, another religion!
is it possible to be apolitical
if you hate the different ones, when
you hate and hate
and the oluja defines you
alienated and deceived
it's been a long time since i've
realized that your anarchy t-shirt
doesn't mean anything,
there are nationalistic tensions here
solidarity without deeds antifascism
because of trend and you'll move aside
from a gipsy in a tram
11.
Zar pank ne bi trebao biti kontra
Zar pank ne bi trebao
biti kontra /blog/ my space??!!
danas te sve to određuje
brend i u hard core muzici
propaganda - direktna akcija
konzumiraš ali i dalje blejiš
propaganda - direktna akcija
konzumiraš ali i dalje blejiš
"šetnja kroz grad više nije ugodna
jer te okružuje propagandna poruka"
sada je i tvoj bend trade mark - zarada
Sad je i hc brend/marka/zarada
Shouldn't punk be against
shouldn't punk be against blogs and myspace
today everything defines you
brand in hardcore music too
propaganda - direct action
you consume and still stare propaganda -
direct action you consume and still stare
a walk through the city is no longer pleasant
because you're surrounded by
propaganda messages now
your band is a trade mark -
profit now even hardcore is a brand/profit
12.
Ovo je ludilo
Uništen od posla / bijes i depresija
za šaku kovanica ... dobro da su
srušili šumu - i ovako je tu bilo samo
blato... A vidi sada parkinga rode
kakav je samo šoping centar niknuo
a tek kada vidiš ponudu! Da li si
gladan / ili si možda žedan???
Sada je sve uredno i na jednom mjestu
da ga nema tu potpuno bi izludio...
Odgađanje depresije na 12mj.
peglanjem kartica
Ovo je ludilo!!!!!!
This is madness
Destroyed because of
work rage and depression
for a handful of nickels...
... it's good they've tore the forest down -
only mud was there and now
look at the parking lot and the
shopping mol that are builtand
when you see the offer!
are you hungry? or maybe thirsty?
now everything is neat and in one place
if it wasn't here, you'd go mad
postponing depression for 12 months
by sliding credit cards
99.
- prateći tekst -
...kritička misao!?
Kako nakon jednoumlja, kako protiv kapitalizma koji promiče ideologiju ljudskih prava. Njihov paravan je tako čvrst, svaki sat se mijenjaju slike koje ga još više učvršćuju, produljuju u nedogled njegov rok trajanja... Ne smijemo zaboraviti da danas vodimo isključivo humane intervencije... Riječ rat je postala stvar prošlosti. Ja je se uopće više ni ne sjećam... Netko je korigirao povijest!!! Znači li to da smo izgubili, ili trenutno gubimo? Mislim da je Crass bio najbliže kada je rekao -nismo uspjeli!
U svakom slučaju, tonemo sve dublje u društvu spektakla, u tržišnom društvu, sve i svi su brend, baš kao i "fak d sistem". Znam da smo izgubili!... Ali ono što znam i što me najviše ubija je to da ćeš mi reći da ne možemo ništa napraviti, tona pitanja je pred nama ... Tko više može davati odgovore ... Chomsky je postao beletristika! ima li i smisla kad ih "oni" mogu unovčiti, i to dobrano! Sve na kraju postaje roba.
Svaki put kad je iz otpora iskoračila i jedna noga, i prigrlila "liberalni" kapitalizam, dala mu je lažni osmijeh na mrtvačko lice koje jede, jede, jede ... proždire! Zlatne '30-e,'68., atentati i bombe, sve je to samo prošlost, spremna za download, spremna da se uvrsti pod "my friends", spremna da se konzumira za malo para... Te iskre su odavno ugašene... Ove nove koje tinjaju u našim srcima možda neće uraditi ništa više, čak niti toliko, ali svakako će znati razaznati bolesne buržoaske vrednote! Borimo se, jer je to smisao našega života!