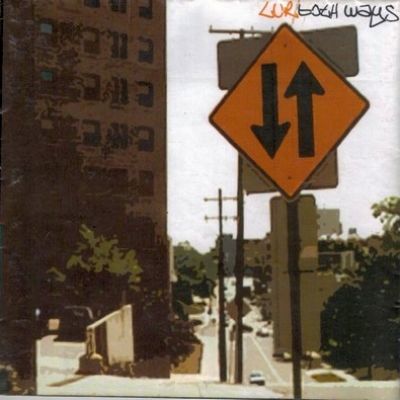 (2003) Both Ways
01.
Holiday
02.
Da zauvek odem
03.
My dreams
04.
Tragovi prošlosti
05.
I said
06.
Pala je noć
07.
Džuli
08.
Forget
09.
Ruža
10.
All my life
11.
Ludak u razvoju
12.
Sally gardens
13.
In this night
14.
No reason
15.
Like a brother
01.
Holiday
In your eyes there's a picture
of you and me
how we stand near the bay
watching the sunset
It was a happy and sunny day
we were in water
playing on our way
your hair was wet and green
and you were so happy there
So long to summer
So long farewell
So long to summer
I hope I'll see you there
everywhere
The summer was gone
I'm all alone
my heart was hurt where were you
you left me on my own
When I look so happy that I could cry
'cause something is telling me then
that the summer will be there
02.
Da zauvek odem
Jednog dana moj će život biti
čokoladni šejk i kasni noćni film
tužna priča sa sretnim krajem
happy-end koji ne volim
Ali danas ja se danas bojim
običnih stvari koje govrim
prijatelja koje poznajem
stihova koje govorim za nas
Da zauvek odem
da li imam razloga za to
da zauvek odem
da li stvarno imam razloga za to
Juče kao da će sutra biti
svaki dan kao preslikana kopija
možda uskoro i bude bolje
kad je život bedna lutrija
Ali danas ja se bojim
običnih reči koje govorim
prijatelja koje poznajem
stihove koje govorim za nas
03.
My dreams
I was walking down the street
there was something big
what could it be
it's so white so big
It was looking right in me
standing in front of me
like it's gonna eat me
Then I started to run
running was my last chance
to get myself away
I ain't gonna choose to stay
I was running almost flying
I was yelling almost crying
but then suddenly I stopped
and then I turned around
there was no one behind me
why I was so afraid
I like my dreams
actually I dream about them
and they are sometimes so real
then they make me wonder
am I really dreaming
am I really sleeping
am I really dreaming
was I dreaming
04.
Tragovi prošlosti
Kada sedim u sobi sasvim sam
ja mislim na tebe ceo dan
mislim o svemu i ne shvatam
šta se dogodilo iz nehata
Zašto ljubav brzo prolazi
i ova čežnja nikad ne odlazi
sećanja su sve što imam
tuga i bol su u njima
Tragovi prošlosti snovi o budućnosti
tragovi prošlosti svi njeni mirisi
tragovi prošlosti vode me ka propasti
tragovi prošlosti tragovi prošlosti
U ovom gradu nema ničega
što bi moglo da me podseti na nju
sva moja nadanja pala su u vodu
kad je prošle noći rekla
"Odlazim idem što dalje što pre
jer ja više ne želim da vidim te
više ne želim te više ne želim te"
05.
I said
I said give me your hand
let's cross the street together
you looked at me like I was shit
you just kept eating your salami sandwich
with a mustard dropping on your favorite
pink dress you were so pretty
My feet turned into stones
I stood there watching
you cross the street alone
then a huge truck came along
well I guess from now I'm on my own
Your lovely head smashed
your favorite ping dress-red
your sandwich soaked with blood
an overdose of sorrow
My heart has just been fed
the ambulance came I just cried and cried
they carry you away in a big plastic bag
they forgot your left eye
so I took it home with me
for eternal memory
you've just died
06.
Pala je noć
Pala je noć ja više neću biti s tobom
moglo je biti bolje ali sada ipak zbogom
Ja idem sam kroz puste ulice prvi put
priznajem da volim te i bojim se
da odem na spavanje
možda opet sanjaću te
A ti zapamti reči dve
koje želim da ti kažem
volmi te umreću za tebe
07.
Džuli
(obrada)
08.
Forget
The best way of life is the way that
you choose to live so pick up the right way
When you look at the future
you're looking the past
then all things look just the same
try sometimes to live on your own
did you forget where's the place
that you should go
where always you've tried to be
with your destiny and your integrity
Eyes of the future eyes of the past
eyes of the future will make you last
All those things that make you stronger
all the demons just fight back
live your life on your own way
forget the future forget the past
09.
Ruža
Kada te nema u sebi osetim tvoj lik
hoću da bežim oko mene svuda je zid
nema snage da kažem to što muči me sad
nikoga nema a u meni budi se strah
Kao nekoad ja leteti ne znam
ruke moje idu ka tebi
ja gubim te ti nestaješ
ja bežim ti u meni ubijaš sad sve
hoću da kažem ali reči kao da ne čuju se
probam da mislim šta je ovde sada najbolje
sve mi se ruši sa sobom odnela mi je sve
Sumorno nebo donosi nam novi dosadan dan
sve mi je prazno a na oči mi dolazi san
kao da ne znam da sada stvarno svemu je kraj
još uvek se nadam ali znam da ostajem sam
10.
All my life
Every day when I see you
I remember that December
when you came into my life
and brought the happiness into my home
Now I'm starting to feel it again
your lovely neck and your beautiful hands
and is it all just a part of a dream
I'm waking up and beginning to scream
In your eyes I see the difference
you didn't fit in a part of my dream
I just wanted us to live together
and now I realize that this is the end
Every day when I see you
every time when I look at you
now you are like a dream
I close my eyes and begin to scream
11.
Ludak u razvoju
Sve što sam želeo
niko neće shvatiti
nikad nisam voleo
i skupo ću platiti
Mislim samo na sebe
a baš nikad na druge
šansu su mi pružili
u stvari su me gušili
Ja sam ja sam ludak
ludak u razvoju
Kao dete sasvim sam
po kući šetam ceo dan
umobolnost je u mojoj glavi
moji snovi nisu pravi
12.
Sally gardens
(by William Butler Yeats)
Down by the salley gardens
my love and I did meet
She passed the salley gardens
with little snow-white feet.
She bid me take love easy,
as the leaves grow on the tree
But I, being young and foolish,
with her would not agree.
In a field by the river
my love and I did stand,
And on my leaning shoulder
she laid her snow-white hand.
She bid me take life easy,
as the grass grows on the weirs
But I was young and foolish,
and now am full of tears.
13.
In this night
In this night I'm leaving
letting all behind me
all frustrations all the fears
but there is so many memories
All frustrations they are gone
but now I'm feeling so alone
need a help I need a friend
to take me away from the edge
Now I know life is easy
in a times when you have someone
without you now I know my true friends
'cause the others are fear and misery
I've heard all your lies
I know for your mindless holes
you want now to trap me down
I'm not a fool I'm not a clown
14.
No reason
Try if you can to understand
let me my heart will tell you
something that you carried on your mind
you must believe and try
try to see those wasted lives
so stand up for the broken hearts
does it always have to be this way
do we all need to pay
You can hate me but why
there's no reason to die
we need to pretend
need to stay indirect
need to be something that we're not
Break the rule and you will pay
with your life it's all hear and say
break the rule with all your lies
all you know it's just to criticize
15.
Like a brother
You are like a brother to me
you pick me up when I'm down
but now I deserve more attention
more attention that I should give
Because of you I'm feeling happy
always trying to give the best
even it it's sometimes useless
my best shot is not my last
Every day and every night
when I'm talking to you
you are always trying to say
what I have to do
We need our lives just to live it
always fighting for the best
we got mouth and words to say
we got eyes to see the way