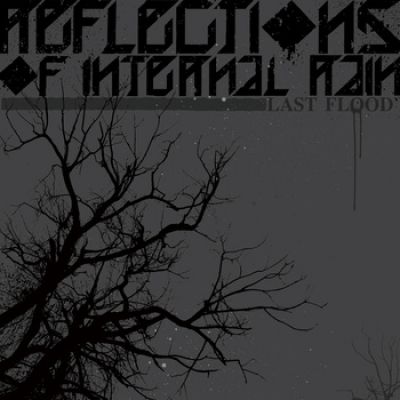 (2009) Last Flood
01.
Intro
02.
Resurrection
03.
What are the moments that never die
04.
Roir army barmy
05.
My own heaven
06.
And i wish to be
07.
Sunset of the end
08.
Breath of day
09.
Roir barmy army 2
10.
Why nobody cares
11.
Shadow
12.
Wasted birth
13.
My promise
14.
A place with beautiful silence (2005 demo)
01.
Intro
no text
02.
Resurrection
Sometimes I'm fed up with myself
and I'm imagining how it will be to be born again
in another place, that's not killing your self confidence
in the shell, that's not asking for so many answers.
And I'm not finding anything
I'm not finding the other light
that made me blind by it's mystic
nor the years when I knew only for my wishes
and a piece of the world
that existed somewhere here.
Now days rains become unbearable
for they melt my words into river of nothing
that expires into smoke of everybody's misery
and here I'm trying to save my last chance.
I inhale all years, every day, moment that I can remember
and at the moment I feel rest and peace
but, anyway, every moment is already the past
and I'm again thinking about the idea of resurrection.
03.
What are the moments that never die
These are the days when I succeed
in acknowledging my inside bleeding,
the spreading of thrill and closing the last cage
whose chains I'm avoiding by swallowing the grief.
I'm not sad, I just can't believe
that the same moment can bring another times,
when, again, I have to choose between
staying calm or be down.
This time is forever, this time I have seen
the last change to fulfill my last steps with echoes
so that they can lead me and remind
of the days whose hours I have erased.
Explanations are fading, as my patience by every thought of you
the river of hopes and the nights in which we grew up
disappeared,
asking what are the moments that never die.
The time will bite every tremble….
04.
Roir army barmy
no text
05.
My own heaven
At the places
you are even not aware of,
I've found my heaven
I've found myself.
Between life and things that I curse
by the air that I've begun to melt
into poison by my own unconscious inhale.
And only I know
the existence of next morning
and why I'm wishing the night
with so many unfinished words.
06.
And i wish to be
Seems that was the way.
But, is every day, every moment
written in advance in the book
which pages are turned by the same breeze
of our breath?
And all that have to happen.
And they didn't ask me anything,
Am I ready for black-white days,
for soundless days,
can I do with no support,
with no light to show me the exits
from black holes that are darker and darker
every minute since you are gone.
I haven't managed for all this time
To get used to the emptiness
That waits for that single day in the year.
Perhaps even my head will not be in it's place
If they haven't destroyed thirteen years of looking for color
That fits the days since you we're gone
I hate tomorrow morning and that path of the stone
I hate the angel that stands so proudly and prays every time we're there
They drawn a map of my feelings
and gave the sadness to the days
when I wish to be that cold angel.
For I haven't felt shiver ( I was not afraid of anything )
I was not aware of myself ( I was not afraid of dying )
And still, I was there and I knew your name
07.
Sunset of the end
And that sunrise fade away….
The last I see are the days
for which I wanted never to be born
I wanted never to live through that sunset of the end.
Now, everything is flat, finished, dead
I do not want the days again,
the short night is enough when can freely tear my heart,
or to inhale slower the emptiness of an ordinary life.
You'll have to accept the density of the air,
you'll have to keep on walking straight
and to deal with the tempo of the days
in which, unfortunately, there's no me.
Stay strong, let your look go seamlessly into the future.
Forget the sorrow and all things that bring you back to me.
And when sky flashes, try to grab hard
all the self confidence of this world
and try to be happy under those heavy clouds
for, sooner or later, every cloud
will be swallowed by the sun.
Are your moments filled with sorrow?
Do you feel my existence when you look up in the sky,
and remember all moments when you breathed only for me?
08.
Breath of day
I'll lose a pebble
shaped as happiness
I'll throw into the face of river
my pride.
The cramps are beginning
for the air is thick
I'm closing my eyes
and turning into nothing.
It's here for me
and only for me
I'll learn to praise
even that little life.
It's here for me
Always when I pray
Just one more day
I'm begging for forgiveness
For bells are already heard
I'm begging for a day
Only one day more
With no forced conditions
To be nearer
To your breath of day
09.
Roir barmy army 2
no text
10.
Why nobody cares
I'm sleeping in my world, I want to sleep forever
I want the storm to pass easy, so that I can wake up together
with the real sun,with the smell of wakening flowers,
trees, and fresh air of this only life.
Have I prescribed to myself the same jail
dedicated to times that fulfilled me
and kept me away from sorrow?
It's dark
days are heavy and the rain is too often
time is passing by as if they are a dream
I want them to be a dream.
The level of water is higher,
I'm not ready for it
I'm not ready for swimming
for staying in the bottom with others.
I'd like to sleep all this years
perhaps she'd like it too?
why nobody is asking her, why nobody cares?
She is not ready for the storm,
she does not want the end
I know that, because she seeks for help by her eyes
I'm here
I'm her eyes
11.
Shadow
Is there a prayer that makes the end, is there a way to get to peace or, we're simply doomed on waiting for the moment that will make the darkness silent?
You're getting hungry for things you're running away calling for the other sides of awakening and praying for the day you'll close your eyes.
Do you remember all the times when you wish that some moments never end and now there's so little to become a shadow to return to your people you don't ask for much, you're simply still running at the edge, to the gate that will make you eternal.
Don't stop, for soon you'll learn the calmness the valley of every move and the pain will become a puzzle your body will fly like a bird, for the cage will brake this time.
I'm still believing in the gate, for my eyes are tired of watching the shadows, tired of running away of what we're honestly wishing for, more obvious from moment to moment.
12.
Wasted birth
Feel the moment of crash inside, the fight for your look ahead overcome the moments of weakness, dig yourself a new place for playing.
Be ahead of every moment, paint every day as the last, the last in row for vanishing, another simple wasted birth.
There's no time for sadness, for melting of months is too fast, you have to run only straight towards the pieces of happiness that feed the lofty dreams.
This morning is another prize for your life of opened eyes the fight inside will make you feel alive this is not a test, every minute is spent forever.
You're falling down with your curved view for, you believe in your painted dreams tomorrow you'll see the emptiness of moments the pieces that you had bitten by your unbelief.
13.
My promise
I halted, not knowing which time, at the edge of screams and silence. I do not have words for coming times. For the first time I don't have the wish to write something down to move, to en light the future.
I know that's only my fault. That the days behind will not fulfill, that the another sitting and wining will not lead to satisfaction.
And more and more I hate the probability of returning to the grayness, to where I didn't know my position and how to walk and this sticky blood is still rolling, till my lags are trying to keep clouds.
For, at least, I accepted the road through heaven and I grabbed every little cloud that would touch my fingers. But I do not have fingers and I do not feel them any more, for someone else is touching my heaven with fake, dead fists.
I'll keep my promise and I'll never stop talking about the truth. Every decision is stronger than hesitation, as well as my will of tomorrow's awakening.
14.
A place with beautiful silence (2005 demo)
After so many years I realize how much the days spent with you meant to me, the days that I'm often trying to call back by the silent cry of this side of life.
I'd like to run into that dark tunnel and live in a second every moment with you to meet you again, to touch you, to run after you, to hug you. Please just one more moment near you.
How hard my days are when you're not here, times that i'm fed up to sickness.
Only I now, I realize how alone am I without you, please, forgive me.
Please forgive me for all those years when i expected and asked too much.
Please forgive me for all lonely years and all the days when I was not on a place with beautiful silence.
I hate those days so much the days of memories, I miss you.